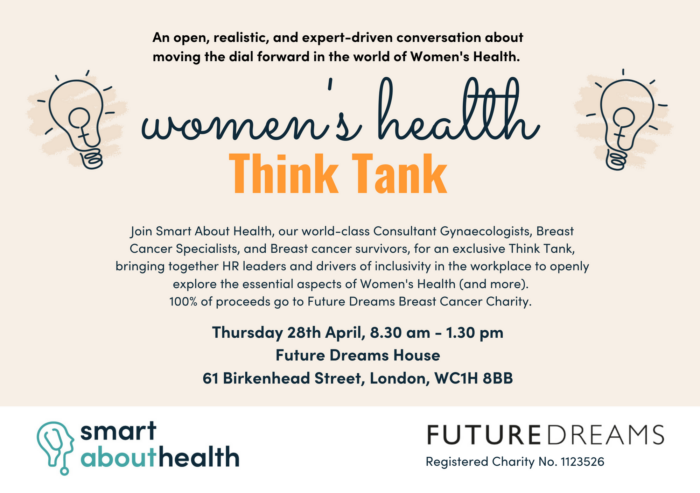 Our friends at Smart About Health would like to invite you to an exclusive Women's Health Think Tank, in partnership with Future Dreams Breast Cancer Charity. This may be of interest to HR professionals, DEI professionals an anyone who is advocate for Women's Health in organisations.
Date: Thursday 28th April 2022.
Location: Future Dreams House, 61 Birkenhead St, London, WC1H 8B
Agenda:
Welcome Breakfast – 8:30
Speaker sessions start – 9:00
Lunch – 1pm
Cost £200 (100% of the proceeds go to Future Dreams Charity)
The event will be hosted by Smart About Health, in partnership with Future Dreams Breast Cancer Charity at their beautiful venue in Kings Cross.  Future Dreams House is considered a haven for anyone affected by Breast Cancer.
Our team of leading specialists and ambassadors with lived experience will take you on a journey exploring key aspects and difficult-to-talk-about issues affecting people in your workplace.
Join us for a series of frank discussions with Clinical experts in Breast Cancer, Menopause, Endometriosis, Period Problems and Fertility:
Miss Joanna Franks – Consultant Breast Surgeon at UCLH
Mr Hemant Vakharia – Consultant Gynaecologist and Endometroisis Specialist
Miss Michelle Swer – Consultant Gynaecologist and Menopause Specialist
Mr Cesar Diaz – Consultant in Reproductive Medicine (Fertility Specialist)
We aim to connect you with like-minded peers who are driving Women's Health and Inclusivity in the workplace. If you are unavailable, please do pass this on to a colleague.
We look forward to welcoming you!