Humanity is facing an existential crisis; the way we work and live. The impact will be massive but how can you measure it?
Recent research, news and commentary suggest a radical realignment in the job market which spells bad news for retention and people risk in general. Nearly 1 in 3 professionals said they had a shift in perspective due to the pandemic and prefer to work for an organisation that better aligns with their personal values. A further 71% percent of employees surveyed by a leading agency stated "they'd leave a company whose values don't match their own".
Setting and managing expectations have never been more important and "today's employees have high expectations of their employer. They want to belong to an organization that puts people first and takes action to create positive change in the workplace and community," said Lynne Smith, Robert Half senior vice president of global human resources.
In great organisations staff wellbeing and the financial bottom line go hand-in-hand.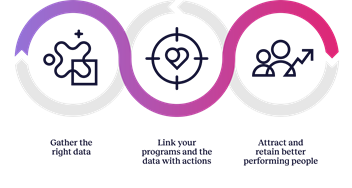 Businesses must be proactive and adopt a systems thinking, data led approach to the health of their people. We are beginning to see this emerging in international standards such as ISO45003.
The first step is to measure.
You need to start by collecting data and monitoring key metrics to inform evidence based decisions. Start by asking these 2 fundamental questions:
Do you know the mood of your business?
If you don't know the mood of your business how do you know the most important drivers of employee well-being and engagement, but more importantly, how do you identify and then support your employees with the services they require?
At the moment, businesses typically have a set budget for resources and combine that with incomplete, often inaccurate, information or feedback from employees as the basis of their well-being strategy. But how can you make informed, accountable decisions based on that? Recent research has shown that the corporate programs most important to workers are; employee well-being (70%) and diversity, equality and inclusion (47%).
Therefore, identifying and monitoring the most important drivers of employee well-being and engagement and acting on feedback in a timely manner is the foundation for a healthy employee and business relationship.
Do you know when your people are struggling, surviving or thriving?
The term 'well-being' is used freely but in reality it's multi-layered and can mean different things to different people. The only way to truly understand your people is to assess their resilience, holistically, across the four domains of health, not just mental and physical health. It's the inter-relationships between them that determines how we deal with events in life. Did you know that 70% of your staff are not working to their full potential?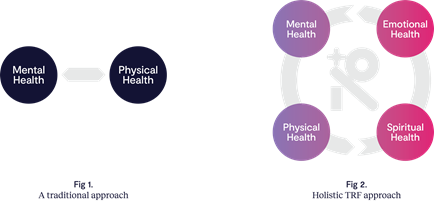 Employees who feel a sense of purpose in their work tend to be happier, healthier, and more productive. Remember, for every £1 spent on health interventions you will see a return of £7 in reduced absence, presenteeism and staff turnover.
The path to achieve mutual success for employers and their people is through trust and transparency. Businesses must trust their employees to tell them how they are and what they need. They must then use that information exchange to transparently deliver the right support and development tools to their people, where it's needed.
This doesn't have to be hard, you just need to take the first step by measuring the health of your people.
About The Resilience Factor
The Resilience Factor exists to provide the metrics and tools to measure the impact of wellbeing, at scale. The data our clients gather helps them harness well-being in order to get a return on their investment – on their people and the bottom line via our flagship "Resilience Index" online assessment and reporting tool. What's the mood of your business?
info@theresiliencefactor.com
www.theresiliencefactor.com