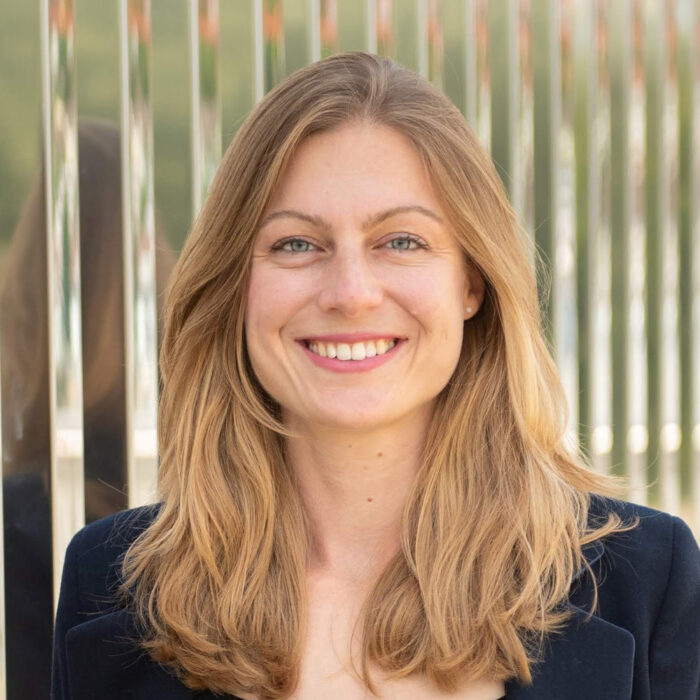 Reka Deak is a Wellbeing Designer. She is the host of the Wellbeing Designers podcast where she talks with wellbeing leaders and shares these conversation with the world.
She has a background in management consulting working on large transformation programs in change, culture and leadership development. Today she is an activist and systemic change facilitator to design work-life fit for humans via a strategic approach combined with education in wellbeing.
She is a brain-based coach, yoga and meditation teacher. She loves being outdoors, in the mountains and tries to bring in the nature element into her work as well.
We caught up with Reka in preparation for her involvement in the Wellbeing at Work Summit Europe which takes place from 23-25 May live and in-person in Amsterdam & Zurich to find out why she is so passionate about wellbeing at work and why she is looking forward to the Summit.
We are thrilled that you will be speaking at our Wellbeing at Work Europe Summit in May. Our first and most important question is, how are you doing today?
I am doing great, thank you for asking. I am energized and excited to be part of the upcoming Wellbeing at Work Summit in Zurich. I am convinced that we have momentum these days to lead the way and design the future of wellbeing.
As a leader based in the region, what are the main challenges you are facing when it comes to employee wellbeing?
I would like to highlight 3 challenges:
Most companies in this region put wellbeing on the top of their agenda since covid. Even they are often struggling to really integrate wellbeing initiatives into their everyday business processes and connect it back to a culture transformation.
Measurement of wellbeing is still not easy, however it is important to use and collect data and invest into improving the ways of measuring.
What I find one of the most interesting challenges is the thin line between the responsibilities of employees and employers when it comes to wellbeing. As we spend so much time (app. 24%) of our lives at work, it is clear that employers need to step up and take responsibility for the health and wellbeing of their employees. Still, employees as individuals need to be accountable as well, develop self awareness and knowledge about what wellbeing means for them and how they can contribute to build and maintain a culture of wellbeing at work.
What strategies have you seen developing in Europe over the past 6-12 months to address health and wellbeing in the workplace?
From the fragmented wellbeing interventions and one time workshops companies arrived at the next stage where they think more strategically about wellbeing and aim to connect it with their culture initiatives and transformation. I have been seeing that companies are developing global health and wellbeing strategies that are usually based on a strategic framework including physical, mental, financial and social wellbeing and sometimes even more areas. They are open to learn from their local offices and integrate local best practices into a global framework so I see a strong element of employee engagement via co-creation.
Why is employee wellbeing so important to you personally?
I have always worked on people topics as a management consultant. My interest in organisational wellbeing started with my own challenges on how I can keep up my balance in the fast paced environment of consulting. There was a memorable project a few years ago that challenged my wellbeing a lot and at the same time inspired me to learn and get trained in various tools and techniques related to wellbeing. My goal is that not everyone has to go through such challenges but we create a culture of wellbeing in organisations so we can truly focus on whatever is important to us to make this world a better place.
What are you most looking forward to about the Summit in May?
First of all I am very excited to moderate the panel discussions with three amazing wellbeing leaders and discuss how to create and implement a wellbeing strategy in large organisations. I am curious about the questions and feedback from the audience.
I am also looking forward to learning from the other speakers as well as from the audience. It is an extraordinary occasion to be with so many like-minded people who are ready to shape the future of wellbeing.
Tell us, what is your vision for the workplace of the future, in terms of employee engagement, health and wellbeing?
My vision is that people enjoy their work and can grow through it both personally and professionally. This is enabled by a wellbeing culture that is based on psychological safety, authentic leadership and trust. People feel they are heard and they are also engaged to contribute and co-create such a culture at their workplace.
What areas do you think employers should be focused on over the next 12-18 months?
Employers should offer employees a strategic and holistic education about wellbeing at work: how they can build on their individual wellbeing to enable a wellbeing culture and perform better as teams. Measurement should be also a strong part of wellbeing strategies keeping in mind that this is a long term investment.
How has your organisation been leading the way?
My company's mission is to lead the way towards the future of wellbeing in organisations. I would like to highlight two ways how we have been leading the way to create systemic change in this space:
1 – We offer inspiration through the Wellbeing Designers podcast series where we talk with wellbeing leaders from big organisations who have the title of "head of wellbeing" or similar. As this is a fairly new position in organisations and many are just opening it up in the near future, there is a high demand for their insights. They are facing a complex challenge: navigating through the growing amount of wellbeing offerings on the market while creating real value for employees and at the same time keeping the leadership team engaged about the return on investment.
2 – Our newest way to support organisations is a strategic wellbeing education focusing on both individual and team wellbeing, building wellbeing skills to improve the ways of working on a practical level.
Reka will be speaking in Zurich at the Wellbeing at Work Summit Europe that takes place both live and in-person in Amsterdam & Zurich and virtually for the wider region. Further details on the Summit can be found here.