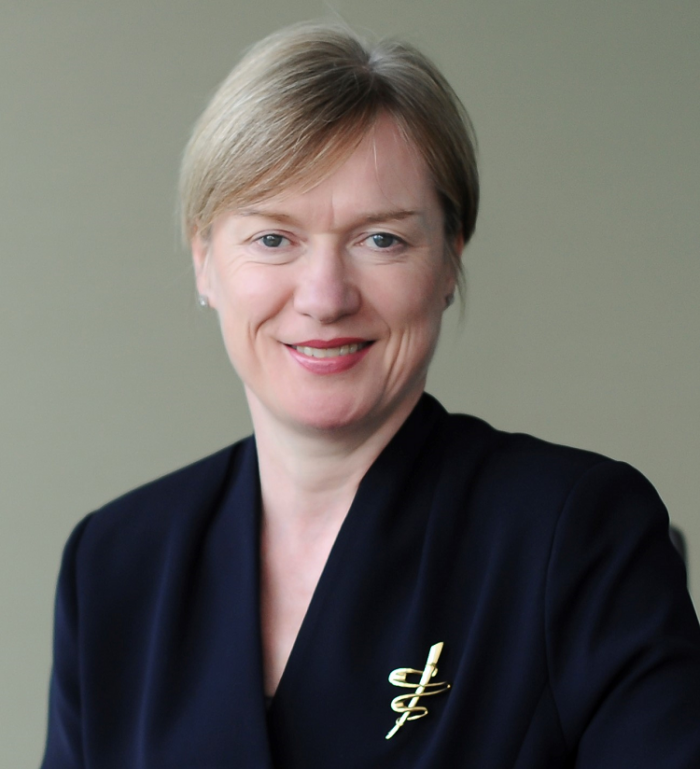 Moira is a highly respected HR professional and is currently the Chief People Officer of Travers Smith LLP where she sits on the Partnership Board. She has a deep interest in employee engagement, health & wellbeing, talent management and coaching. Moira brings her extensive global HR and L&D expertise to her role and demonstrates passion and professionalism to support partners and other senior leaders in achieving their business goals. Moira holds a Meyler Campbell executive coaching accreditation, is a trustee of the Mindful Business Charter, and also a fellow of the Society of Leadership Fellows at St George's House in Windsor Castle.
We are delighted that Moira will be joining us as a speaker at our Wellbeing at Work Summit UK which takes place from 19th-21st September, live and in-person in London & Manchester. We caught up with her to find out why she is so passionate about wellbeing at work and why she is looking forward to the Summit.
We are thrilled that you will be speaking at our Wellbeing at Work UK Summit in September.
Our first and most important question is, how are you doing today?
At the time of writing this, I am feeling motivated for the working week ahead following quality time with both of my godson's this weekend which including punting in Oxford! I managed to switch off from work apart from 45 minutes on Sunday morning to catch up on emails given that we are two weeks from the end of our financial year.
As a leader based in the region, what are the main challenges your you are facing when it comes to employee wellbeing?
I work for a law firm based in the City of London. The legal sector can be very punishing for lawyers who need to balance the demands of clients alongside managing the unexpected challenges which working on deals and complicated cases brings. We strive to provide everyone in the firm with support for their wellbeing (both physical and mental), yet I fear that the legal sector will never deliver a harmonious work life balance for lawyers. We are a signatory of the Mindful Business Charter which seeks to remove unnecessary sources of stress and promote better mental health and wellbeing in the workplace, and we remain committed to implementing small changes and working practices in support of the Charter.
What strategies have you seen developing over the past 6 months, both internally and externally, that is moving the dial on wellbeing in the workplace?
Through our work in support of the Mindful Business Charter we have worked hard to ensure that people, regardless of their role, put in place effective and timely handovers before their holidays. We have noticed that more people are telling us that they did manage to get a proper break. We are also committed to more thoughtful project briefings which enable a project team to discuss how they intend to respect the mindfulness of everyone involved in the project (be that a legal transaction or an internal project).
Why is employee wellbeing so important to you personally?
I feel strongly that we should 'work to live' rather than 'live to work'. My role gives me license to challenge the way people work and, despite the pandemic and the good that came out of it, I can see that some people are reverting to old habits. That is a real shame.
What are you most looking forward to about the Summit in September?
I am looking forward to hearing from my peers on the latest developments in well-being and to learning what others are doing in different sectors.
Tell us, what is your vision for the workplace of the future, in terms of engagement, health and wellbeing?
It is broad vision but hopefully achievable over time. I would like to see a world where organisational culture is such where people can genuinely speak up early about any concerns that they might have with their wellbeing or the wellbeing of their colleagues. I believe that the pandemic has provided us all with the gift of increased flexibility and holding on to this must be right for overall engagement and well-being.
What areas do you think employers should be focused on over the next 12 months?
I feel strongly that people should be able to have quality time when taking annual leave. It really can't be that difficult but so many people remain tied to their mobile devices when they really do not have to. I would like to see improvements here. For those employers who do not have a therapy service in place for their employees, consideration of where people can be routed to for therapeutic support when needed could make a real difference. I recognise that there is a cost involved yet the return on investment can be huge. Finally, financial well-being has became even more important and supporting employees with support and guidance from organisations that provide this form of education will also make a difference.
How has your organisation been leading the way?
We adopt a holistic approach to well-being and pride ourselves in our supportive and collegiate culture. Using stories to bring to life some of the challenges that people have had or are having has really made a difference. I believe that using stories as part of a well-being strategy encourages increased dialogue about well-being, particularly mental health. As my husband has always told me 'a problem shared can be a problem halved'.
Moira will be speaking in London at the Wellbeing at Work Summit UK that takes place both live and in-person in London, Manchester, and virtually for the wider region. Further details on the Summit can be found here.