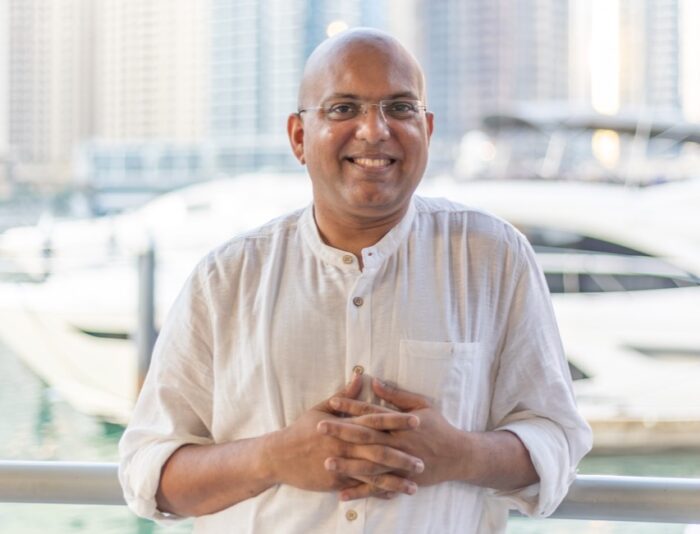 We caught up with Arul Savio Pinto in preparation for his involvement in the Wellbeing at Work Middle East Summit on 21-23 February to find out why he is so passionate about wellbeing at work and why he is looking forward to the Summit.
We are thrilled that you will be speaking at our Wellbeing at Work Middle East Summit in February. Our first and most important question is, how are you doing today?
I am doing excellent, sensing today is going to be a good day. It all starts with a cup of coffee.
As a leader based in the region, what are the main challenges your you are facing when it comes to employee wellbeing?
There are quite some challenges leaders in the region continue to grabble with on a regular basis when it comes to employee wellbeing. Here are some I would like to highlight.
As more and more employees are working from home, the future of work has become increasingly sedentary with usual physical activities such as going to the gym or walking to work been disrupted.
COVID-19 has created an even more uncertain environment for both employers and employees, resulting in a lot of Financial Stress which in turn is severely impacting productivity. 
Lastly, managing and applying wellbeing-related initiatives across a wider geographical spread and ensuring all employees can access and utilize the initiatives, regardless of their location or work environment
What strategies have you seen developing in the region over the past 6-12 months during the pandemic to address health and wellbeing in the workplace?
With wellbeing now taking centre stage in all organizations, leaders in the region have been majorly focusing on
Physical Well-being: A growing number of employers have made physical wellness a priority and created a host of corporate activity challenges at work. Today, physical encompasses many aspects including exercise, sleep, overall lifestyle, and food choices.
Career Well-being: The pandemic has led a growing number of employees to re-evaluate their career goals and re-think the job they want moving forward. As employers focus on attracting and more importantly retaining talent, this has meant, increased compensation, enhanced learning & development programs, developing new internal talent mobility opportunities, and online coaching and resilience training to help employees deal with massive disruptions and new ways of working.
Financial Well-being: The uncertainty of the pandemic has caused a lot of financial stress which in turn is impacting their productivity, their health, and their relationships. More and more employers have begun offering financial management workshops, emergency funds, tailored compensation packages to reduce the amount of time employees spend worrying about their financial situation.
Purpose Driven Well-being: Employees' desire to work for organizations whose values align with their own is more and more becoming important criteria in selecting a new employer. As the talent marketplace continues to heat up, organizations are rapidly realizing that employees increasingly want to work for a company whose values match their own.
Why is employee wellbeing so important to you personally?
The pandemic has given leaders increased visibility into the life struggles of their employees. I believe in today's world Workplace Wellbeing relates to all aspects of working life, from the quality and safety of the physical environment, to how employees feel about their work, their working environment, to the climate at work and work organization. The focus has shifted from just organizational issues to individual human life experiences and on well-being programs that help a person feel happy and stay healthy.
What are you most looking forward to about our event in February?
Employee Wellbeing is one of most talked off subjects in the corporate world. I am looking forward to hearing from industry leaders their thoughts and engaging in some very meaningful discussions.
Tell us, what is your vision for the workplace of the future, in terms of employee engagement, health and wellbeing?
There is no doubt that a workforce that is "well" leads to increased productivity. Most organizations limit their well-being programs to encouraging employees to live healthier lifestyles and provide a few initiatives around that. Well-being is not an isolated program or initiative. Employee well-being is purpose-driven and woven into the fabric of an organization's values and the employee experience. It needs to go beyond physical well-being and encompass, emotional well-being, financial well-being, career well-being, social well-being. Each dimension is unique and intertwined with the other.
Covid-19 has undoubtedly influenced all areas of employees personal and professional lives. What are the key learnings from this period and what are your tips for supporting each other through uncertainty?
While Covid -19 has influenced all aspects of work, the largest and most powerful impact has been on Employee Well-Being. While most organizations did do something around employee well-being in the past it was largely limited to a few policies or weeklong activities. The pandemic has not only got both employers and employees thinking about the impact that well-being brings to employees, their productivity, and the organization at large. Organizations have realized that employee well-being goes well beyond physical well-being and encompasses all aspects of an employee's life.
How has your organisation been leading the way over the last 12 months?
We have begun to look beyond physical well-being have taken initiatives around career wellbeing, financial wellbeing and social wellbeing. Cliché as it may sound, we have started creating happy workplaces for happy employees.
Arul will be speaking at the Wellbeing at Work Middle East Summit that takes place both live and in-person in Dubai and virtually for the wider region. Further details on the Summit can be found here.