There's an old saying that health is wealth. Except right now, workplace well-being isn't doing that well. Burn-out, stress, and anxiety are continuing to rise on a global scale. Absenteeism and presenteeism have increased by around 20%.1 And data from 100+ teams show that teams beginning to work with Quan cite stress at work, exercise, and body appreciation as their biggest challenges. Meanwhile, many organizations are continuing to up their spend on well-being solutions without seeing results.
It's costing businesses a lot of money — because when employees don't feel well, they can't work well. But treating well-being issues the same way we always have isn't working. It's not working for employees, who are struggling to manage poor well-being because it's a "them" problem, not a work problem. And it's not working for organizations, who are trying to offer the right support, but can't seem to hit on a winning cure.
Well-being is the mechanism for how businesses — and the bottom line — stay healthy in the future. But to make workplace well-being work, we need a new approach — one that better connects individual and organizational health so that both are poised to perform.
Team well-being is the way forward. In a team-based approach, organizations can identify their biggest well-being challenges, make targeted fixes that address their root causes, and create a work environment where everyone is set up to thrive.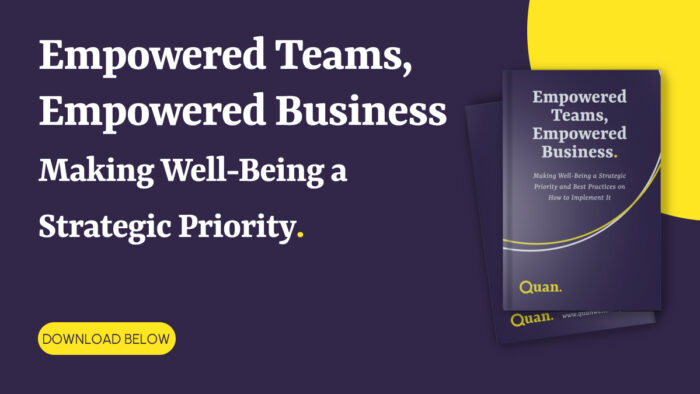 In this ebook, we'll guide you through why team well-being is a strategic priority, and equip you with expert advice and scientific best-practice on how to make this a reality in your own organization.
Download this fantastic free ebook from Quan below and learn how to empower your team.